After a quick blast of winter like weather last weekend this week's Racing Preview will have events running in more summer like conditions.
RENO (June 15) —The big even for this weekend is the annual Corey Herring Memorial European Scrambles at the Honey Lake MX track. This also ends MRANN's spring series with the fall series beginning in September.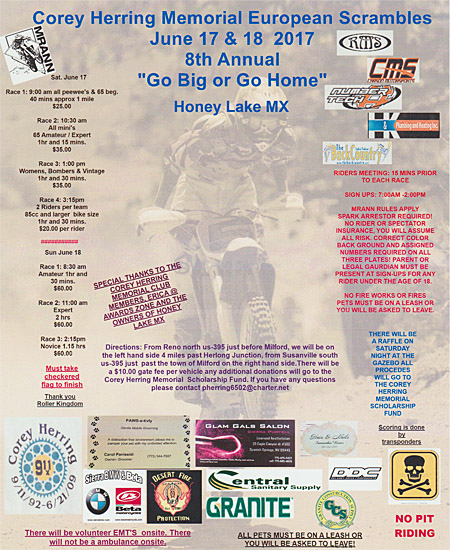 On Saturday, starting at 9:30 a.m. the Pee Wees followed by the Mini Bikes, V Women and Team races take to the track. On Sunday each of the three big classes run separate timed events with the Experts going first at 8:30 a.m.
Four oval tracks will be in action this weekend as well.
On Friday Diamond Mountain Speedway has another of its points races while on Saturday American Valley Speedway in Quincy, California will host another of its points races with a 7 p.m. starting time.
Also on Saturday starting at 6 p.m. Rattlesnake Raceway will be in action with the cars and Mad Metal Mud Drags. Further south Tonopah Speedway will host another of its points races.
Over the hill the motocross track at Prairie City will host another of Saturday evening race with practice beginning at noon and motos following that.
We here at nvracingnews want to extend our best wishes to all those traveling to compete in the Monster Energy Mammoth Mountain Motocross races. This is the 50th anniversary of the event that begins Thursday, June 15 and runs through June 25.
And now to TV and Internet Land.
As usual most things Thursday are in the Rerun Zone but there are two live shows. At 3 p.m. NBC Sports has NASCAR America while at 4 p.m. Fox Sports 1 airs NASCAR Race Hub.
Friday has an early start on Fox Sports 2 as NASCAR practice sessions get started at Michigan and Cup qualifying is at 1:15 p.m.
Then at 3 p.m. Fox Sports 1 air the ARCA race from Michigan followed at 5 p.m. with NHRA qualifying from Bristol, Tennessee.
Over on the Internet Fanshoice.tv at 6 p.m. has a NWAAS event from Magic Valley Speedway.
Saturday also begins early, at 5:30 a.m. as first Fox Sports 1 then Fox Sports 2 has live coverage of this year's twice around the clock classic, the 24 Hours of Le Mans.
Fox Sports 1 has the Xfinity race from Michigan starting at 10:30 a.m. then at 5:30 p.m. the Camping World Truck race from Gateway.
This week's Pro Motocross races will be from the Mt. Morris track and again coverage is split between two networks.
The first motos starting at 10 a.m. can be seen on www.MAVTV.com. Then NBC Sports has the 2nd 450 Moto at 12:30 p.m. followed by the second 250 moto an hour after that.
Later in the evening at 9 p.m. Fox Sports 2 has more coverage of the 24 Hours of Le Mans followed at 10 p.m. with the remainder over on Fox Sports 2.
Over in the Internet www.fanschoice.tv streams the American Flat Track race from Oklahoma City starting at noon. Then at 3:30 p.m. two short track events are streamed starting with the Berlin Raceway followed by on from Langley Speedway.
Starting at noon Fox Sports 1 has the Monster Energy NASCAR Cup race from Michigan. Then at 3:30 p.m. the network airs the NHRA Thunder Valley Nationals from Bristol.
Please remember all times listed here are in the Pacific Time Zone.
That's it for this week, but with the nice weather please try and get out to see an event live. While TV is good, there is nothing like being at a live race for excitement, color and speed.
And you'll not only help support the local track but the racers as well. It's a great way to spend a summer evening.
If you enjoyed this article please "like," and share it as widely as possible. Comments are welcome.
Subscribers have articles posted to their inbox as soon as they are on the site.
We now have five very appreciated sponsors that are helping support this site.
Our newest is Big Valley Honda and is the first dealer we have as a sponsor. They sell everything from motorcycles, UTV's, ATV's and about anything else things one could want.
They are located at 2225 Market Street in Reno and their website is www.bigvalleyhonda.com and they have a Face Book page, www.facebook.com/bigvalleyhondareno.
Our first sponsor is a full service motorcycle shop, Reno Motorsports and they too have a full service shop as well as about anything a rider could want.
They are located at 964 Terminal way, by Mill Street and their website is, www.rms-renomotorsports.com.
Sponsor PJ & Co Restaurant and Saloon located at 1590 Wells Avenue in Reno is familiar to most in the riding lifestyle.
Good food, great place and they have Bike Night every Wednesday. For further information please check their website at, www.pjandco.net.
Concours Body Shop, owned by racer and race supporter Gil Grieve, is a business doing quality repair work on cars and trucks.
The business is located at 240 Telegraph Street in Reno and their website is, www.concoursbodyshop.net.
If you are into karting or want the most cost effective way to start racing then check out Nevada Kart Sport, our only full service kart shop in this region.
They are located at 1220 E. Greg Street in Sparks and their website is, www.nevadakartsport.com.
Have a business targeted toward the motorcycle, motorsport or off road demographic? Well we are looking for more sponsors.
You can contact us either through the comment section of the site or our Face Book page.